Eric G. Johnson
Published 1:17 pm Friday, June 9, 2023

On June 6, 2023, Eric Gustave Johnson struggled for his last time with his mental health and passed away at the age of 56.
Eric was born on December 10, 1966 in Albert Lea, Minnesota to Kenneth and Linda (Mollegren) Johnson. He served in the United States Air Force from 1986 to 1992. He worked for the Electrical Union for 26 years with IBEW Local 343 where he gained many friendships that felt more like family. Eric married Marion Silva and loved her with his whole heart. There was nothing that he wouldn't do for her.
Eric and Marion spent most of their time with family, but also loved getting away and just driving around listening to music and talking for hours. He loved simply holding her. Eric also loved spending time with his children and he was the best Grampy anyone could ask for. His family always knew how much he loved them because he couldn't go five minutes without telling each of them and he gave the best hugs. He enjoyed taking all of the kids fishing, hunting, to the park, on bike rides and was always the first one to hear the ice cream truck!
He never missed watching a Twins or Minnesota Wild game with his daughter, Breezy. Eric was the worlds "best" dancer, or at least he thought he was and he loved grilling and always called himself the "Grill Master".
He was preceded in death by his mother-in-law, Gloria May, grandparents, Gustave and Susan Mollegren, Roland and Jurine Johnson; aunt, Nancy Hanson; uncles, Ronald Johnson and Stanley Johnson; and cousin, Ronnie Johnson, jr.
Family was clearly important to Eric and he either had a handshake or a nickname for each of his children. Eric is survived by his wife, Marion "Baby" Johnson of Austin; children: Casey (Callie) Gloden, Kaitlyn (Ryan) Evanson, Emily "Blondie" Underhill, Skyler Johnson, Breanna "Breezy" Underhill, Meagen Underhill, Madison Underhill, Matthew "Bubby" Underhill, Gage "Gager Wager" Underhill, Ashlyn "Bruh" Johnson, Andi "Pandi" Johnson, and Adele "Pickle" Johnson; grandchildren: Camron, Landon, Parker, Mason, and Claire Gloden, Easton and Paisly Evenson, Brody, Zander and Kai Egeness, Aria and Tate Johnson, Nikko and Penelope Underhill, and Axell Sorenson; parents: Kenneth and Linda Johnson; siblings: Kindra (Warren) Vanveen, Jenny Johnson, Misty Erickson (Jay Nelson); nieces and nephews.
A funeral service will be held at 11:00 a.m. on Thursday, June 15th at Clasen-Jordan Mortuary. Visitation will be at Clasen-Jordan Mortuary on Wednesday from 5:00 to 8:00 p.m. and on Thursday for one hour prior to the service.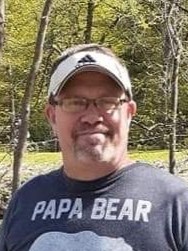 More NO PAYWALL